Welcome to my HAM shack website, a place for me to document my HAM related things. Currently I am running an ICOM 746 for HF. I generally am doing FT8 though I do participate in the ORCA digital net and Western Digital Net on 3.581MHz (MFSK32, USB 1500Hz). I plan to overhaul this website soon and actually make it more useful with various projects I have worked on, and am working on as well as other useful resources for hams.
I run an APRS iGate using an ICOM 2100H. I generally monitor DMR brandmeister AMSAT TG, and I am available there for DMR SMS, I also will get APRS messages as well. For DMR and general analog 2m/70cm I have an Anytone D878UV.
I log on QRZ and LotW.
Latest SSTV PIC: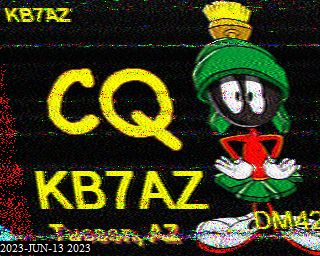 ---
Projects
---
Dipole Housing and Mount

A simple 3d printed housing and mount for making dipoles. Based on 5mm copper tubing for elements, and standard SO239 panel mount UHF female connector. The mounting is based on PVC piping, either 1" or 3/4" options sofar. This project is a work in progress as I refine and add more features to the print files which I will share once I am done refining them to a releasble state.
include("footer.php"); ?>